DuroWipers are the only fully enclosed system on the market, in line with European Safety Standards, protecting users from serious injury.
AISI 316 Stainless Steel is used extensively in the manufacturing process because of its strength and anti-corrosive qualities.
With quality as a priority our wipers incorporate four G Seals and two external seals to combat water ingress, up to ten Oilite Bearings, one sealed ball bearings and two needle bearings to reduce friction and increase longevity and maintenance free performance.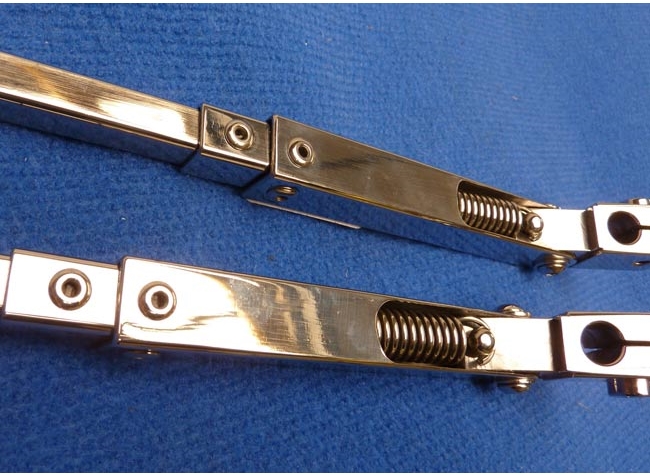 Arms
DuroWiper Arms have been developed for high levels of performance. Machined from 316 Stainless Steel for both the anti-corrosive qualities and strength required.
To counteract any slippage DuroWipers incorporated a double clamp system.
For smaller windows the light version uses a single clamp and smaller section material.
Front flexing is eradicated by Double Bracing giving a consistently effective wipe.
Lengths are available from 200mm.
Unusually shaped windows and windscreen, can be fitted with Cranked Arms designed for specific applications.
Blades
Blades are consumable items and DuroWipers recommend replacement to ensure effectiveness of the whole system, as part of the vessels planned maintenance. To extend blade life expectancy from the elements DuroWipers recommend regular cleaning, covering from UV rays and lifting off the glass when not in use.
Click below to see our full range of Wiper Blade drawings and specifications;
Washer Jets, Reservoirs and Pumps
Standard Reservoirs are available in 2 Litre, 5 Litre, 11 Litre and 23 Litre capacity complete with pump, larger sizes are made to customer requirements.
On-Arm washer jets are a popular way to wash windows, we offer a light duty 4 jet option and a heavy duty 6 jet option, these can be fitted to both pantograph arms for extra wash capabilities and/or clear water and cleaning agent for particularly arduous conditions.